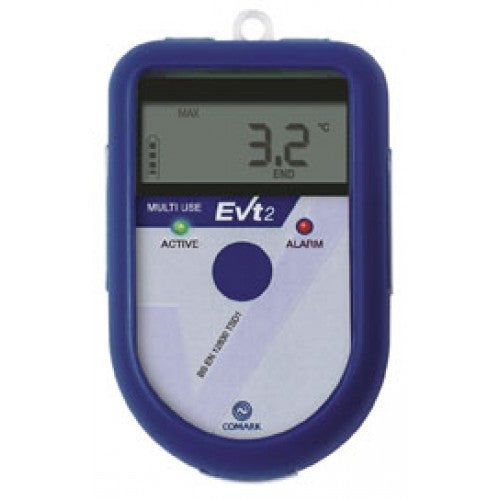 Multi-Use Temperature Data Logger Starter Kit
Compact and easy to use, the EVt2 logger provides the most cost effective transport logging solution over any distance, from local to international deliveries. Use it too, in applications where simple, low cost temperature monitoring is needed.
EVT2 loggers are electronic, programmable and log data for permanent storage on a PC.
Requires dedicated software and a computer interface (See Related Products).
Two versions of software are available.
EVSW for general use and ideal for HACCP and other quality systems.
EVSWPRO which aids compliance with 21CFR Part 11.
Tested to meet EN12830:1999.
EVT2 Data Logger
Compact logger, ideal for multiple trips or where a separate log is required for outward and return deliveries - just download to a PC after each trip and re-use
Pre-programmed logging sequence ready for instant use
Internal sensor
Memory capacity up to 3000 readings
Critical data shown on display
Case certified waterproof to IP67 standards
Up to 2 year battery life
BioCote® antimicrobial protection
Kit includes:
1 x EVT2 Data Logger
1 x EVTCRU Computer Interface
1 x EVSW EV Software
Everything you need to start logging!
Download Literature
EVT2 Temperature Data Logger Literature
EVT2 Quick Reference Guide
EVT2 Software Guide
Sensor Type Thermistor
Measurement Range -30°C to +70°C, -22°F to +158°F
Scales °C, °F
Display Resolution 0.1°C
--------------------------------------------------------------------------------
System Accuracy
-30°C to +70°C ±0.5°C
-22°F +158°F ±0.9°F
--------------------------------------------------------------------------------
Channels Single internal sensor only
Memory 3000 samples
Communications Via infra red interface
Logging Frequency Programmable between 1 second and 99 hours
Logging start/stop/LCD Single multi-function button operation
Internal Sensor Response time T90 = 15 to 30 minutes in ambient air
--------------------------------------------------------------------------------
Ambient storage -30°C to +70°C, -22°F to +158°F
Battery type ½ AA Lithium
Battery life 24 months
(Based on a 15 minute log rate
at +20°C/+68°F with alarms off)
--------------------------------------------------------------------------------
Case Material Food safe polycarbonate
LED Indication Red = Alarm
Green = Logger active
--------------------------------------------------------------------------------
Dimensions
Length 88mm (including fixing lug)
Width 80mm
Depth 35mm