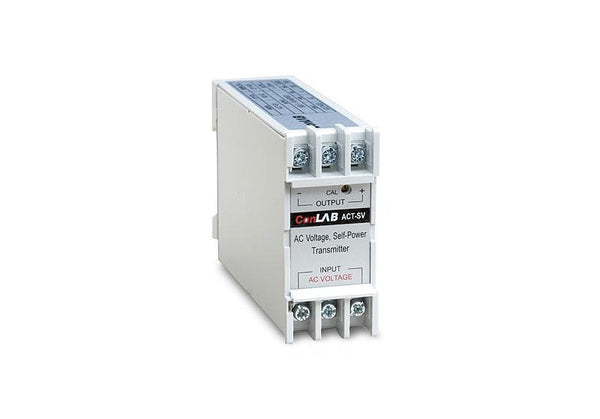 ConLab 0-300 Volt AC Transmitter Sensor
Overview
0-300 volt self-powered transformer for monitoring sine wave, single-phase AC voltage. Requires Input Cable for use with U12 loggers.
Highlighted Features
Plug directly into the external input jacks of U12 and ZW Family loggers to expand the range of measurement options and applications
In what environment does this sensor operate?
This sensor operates in an indoor environment.
What measurements does this sensor support?
The T-CON-ACT-300 sensor supports the following measurement: AC Voltage
The country of origin for this product is Israel. To see the full specifications for this product, please see our product manual found under the documentation tab if available.
Ranges: 0–300 volts RMS

Sensor accuracy: < ±0.1% of span (20% to 120% of range) ±0.25% of span (10% of range)

Over range: +20% of span

Over load: +40% of span

Frequency: 60 Hz AC

Supply: Self-powered

Output: 0–20 mA

Response time to 90%: <240 msec

Operating conditions: -20° to 70°C (-4° to 158°F); 5-95% RH, non-condensing

Housing: Plastic polycarbonate

Protection Level
Box: According to IP-50 DIN 40050
Terminals: According to IP-10 DIN 40050

Mounting: Standard 35mm DIN rail
Notes: Because these sensors tie directly into the line, they should be used only by qualified personnel.
Requirements
For U12 & H8 Loggers: Input Cable (Part # CABLE-4-20mA)

For HOBO Energy Logger: FlexSmart Analog Module (Part # S-FS-CVIA)