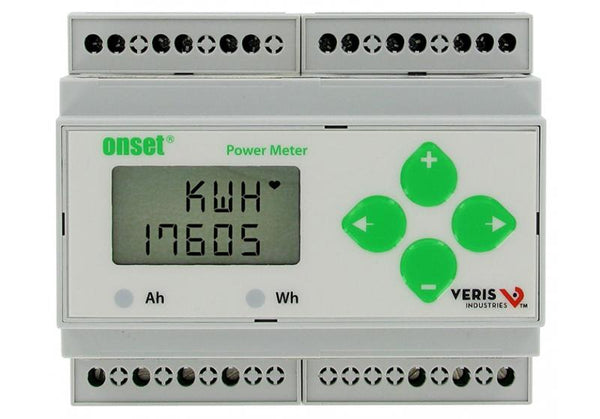 E50B2 Power & Energy Meter Sensor
Overview
Build better energy efficiency and power management with the E50B2 Power & Energy Meter. This cost-effective sensor is simple to deploy and can either be installed on standard DIN rail or be surface mounted. The E50B2 integrates with HOBO UX, U30, ZW, H22, and H21 data loggers.
Highlighted Features
Measures Power Factor (PF), Reactive Power (VAR), Watt Hours (Wh) and more.
Range: 90-600VAC – Wye or Delta configurations
Accuracy: ANSI 12.20 0.5% accuracy, IEC 62053-22 Class 0.5S
Compatible with CTs from 5 to 32000A (333mV output)
Bright backlit LCD
UL listed, CE, California CSI Solar, ANSI C12.20
In what environment does this sensor operate?
This sensor operates in an indoor environment.
What measurements does this sensor support?
The T-VER-E50B2 sensor supports the following measurements: AC Voltage, Amp Hour (Ah), Amps (A), Kilowatt Hours (kWh), Kilowatts (kW), Power Factor (PF), Volt-Amp Reactive, Volt-Amp Reactive hour, Volt-Amps (VA), Volts (V), Watt Hours (Wh) and Watts (W)
To see the full specifications for this product, please see our product manual found under the documentation tab if available.
Measurement Accuracy:
Real Power and Energy:
IEC 62053-22 Class 0.5S, ANSI C12.20 0.5%
Reactive Power and Energy:
IEC 62053-23 Class 2, 2%
Current:
0.4% (+0.015% per °C deviation from 25°C) from 5% to 100% of range;
0.8% (+0.015% per °C deviation from 25°C) from 1% to 5% of range
Voltage:
0.4% (+0.015% per °C deviation from 25°C) from 90V (L-N) to 600VAC (LL)
Sample Rate:
2520 samples per second
Data Update Rate:
1 sec
Type of Measurements:
True RMS up to the 21st harmonic 60 Hz, One to three phase AC system
Input Voltage Characteristics:
Measured AC Voltage:
Minimum 90VL-N (156VL-L) for stated accuracy
UL Maximums: 600VL-L (347VL-N)
CE Maximums: 300VL-N (520V L-L)
Metering Over Range:
+20%
Impedance:
2.5 MΩ (L-N)/5 MΩ (L-L)
Frequency Range:
45 to 65 Hz
Input Current Characteristics:
CT Scaling:
Primary: Adjustable from 5 A to 32,000 A
Measurement Input Range:
0 to 0.333VAC or 0 to 1.0VAC (+20% over-range)
Impedance:
10.6kΩ (1/3 V mode) or 32.1kΩ (1 V mode)
Output:
Alarm Contacts:
N.C., static output (30VAC/DC, 100mA max. @ 25°C, derate 0.56mA per °C above 25°C)
Real/Reactive Energy
Pulse Contacts:
N.O., static output (30VAC/DC, 100mA max. @ 25°C,
derate 0.56mA per °C above 25°C)
Mechanical Characteristics:
Weight:
0.62 lb (0.28 kg)
IP Degree of Protection (IEC 60529):
IP40 front display; IP20 Meter
Display Characteristics:
Back-lit blue LCD
Terminal Block Screw Torque:
0.37 ft•lb (0.5 N•m) nominal/0.44 ft-lb (0.6 N•m) max
Terminal Block Wire Size:
26 to 14 AWG (0.13 to 2.08 mm2)
Rail:
T35 (35mm) DIN Rail per EN50022
Environmental Conditions:
Operating Temperature:
Meter: -30° to 70°C; Display: 0° to 50°C
Storage Temperature:
Meter: -40° to 85°C; Display: -10° to 60°C
Humidity Range:
<95% RH (non-condensing)
Altitude of Operation:
3 km max.
Metering Category:
North America:
CAT III; for distribution systems up to 347 V L-N/600VAC L-L
CE:
CAT III; for distribution systems up to 300 V L-N
Dielectric Withstand:
Per UL 508, EN61010
Conducted and Radiated Emissions:
FCC part 15 Class B, EN55011/EN61000 Class B (residential and light industrial)
Conducted and Radiated Immunity:
EN61000 Class A (heavy industrial)
Safety:
North America (cULus):
UL508 (open type device)/CSA 22.2 No. 14-05
Europe (CE):
EN61010-1:2001