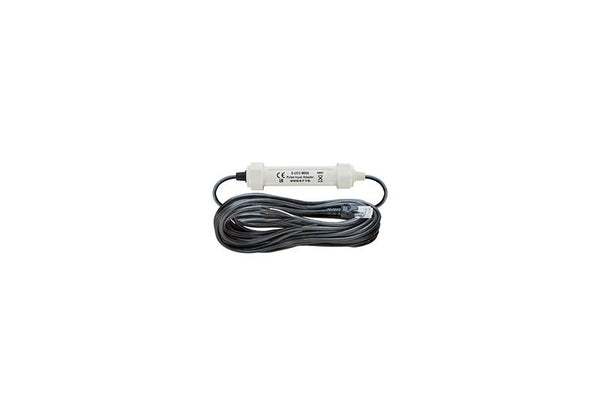 Electronic Switch Pulse Input Adapter - 6 meters Sensor
Overview
The Electronic Switch Pulse Input Adapter connects sensors with pulse outputs to data loggers with smart-sensor inputs. This Smart Sensor is compatible with electronic switch closures such as FET or open-collector outputs, or CMOS-level logic signals with a maximum input frequency of 120 Hz (120 pulses per second). See how the pulse recorder works.
Highlighted Features
Plug-n-play adapter for pulse output sensors
Automatically recognized by HOBO Energy Logger
6m cable length (extension cables available)
In what environment does this sensor operate?
This sensor operates in indoor and outdoor environments.
What measurements does this sensor support?
The S-UCC-M006 sensor supports the following measurement: Pulse Input
To see the full specifications for this product, please see our product manual found under the documentation tab if available.
Maximum input frequency: 120 Hz (120 pulses per second)
Measurement range: 0 – 65,533 pulses per logging interval
Resolution: 1 pulse
Lockout time: 45 µs ± 10%
Recommended input type: Electronic solid state switch closure or CMOS-level digital output (example: FET, opto-FET or open collector)
Preferred switch state: Active low input Normally open
Edge detection: Falling edge, Schmitt Trigger buffer (logic levels: low ≤ 0.6 V, high ≥ 2.7 V)
Minimum pulse width: 1 ms
Input/output impedance: 100 KΩ
Open circuit input voltage: 3.3 V
Maximum input voltage: 3.6 V
User connection: 24 AWG wires, 2 leads: white(+), black(-)
Operating temperature range: -40° to 75°C (-40° to 167°F)
Overall cable length: 6.5 m (21 ft.)
Housing: Weatherproof PVC housing protects input adapter electronics
Housing dimensions: 14 x 0.95 cm (5.5 x 0.375 in.)
Weight: 310 g (11 oz.)
Bits per sample: 16
Number of data channels: 1
Measurement averaging option: No (reports the number of pulses over the logging interval)