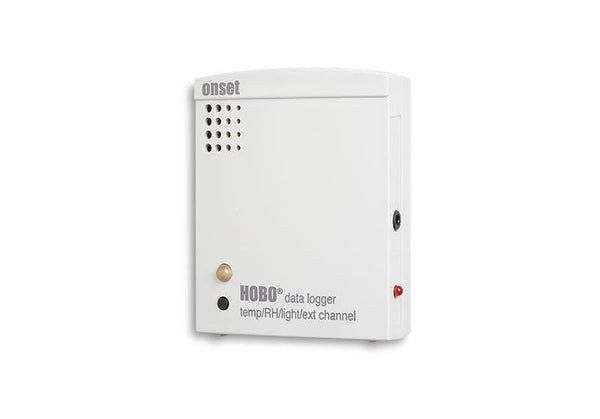 HOBO Temperature/Relative Humidity/Light/External Data Logger
Overview
Measure temperature, relative humidity, light intensity, and more with the HOBO U12-012. With 12-bit resolution measurements, this data logger gathers a range of recorded data and stores 43,000 measurements.
Highlighted Features
12-bit resolution provides high accuracy
Large memory for long-term deployments or fast sampling
Programmable and push button start
Direct USB interface for fast data offload
Compatible with Onset's HOBO U-Shuttle for convenient data transport
Compatible with HOBOware and HOBOware Pro for logger setup, graphing and analysis
In what environment does this data logger operate?
This data logger operates in an indoor environment.
What measurements does this data logger support?
The U12-012 data logger supports the following measurements: 4-20mA, AC Current, AC Voltage, Air Velocity, Carbon Dioxide, Compressed Air Flow, DC Current, DC Voltage, Gauge Pressure, Kilowatts (kW), Light Intensity, Relative Humidity, Temperature and Volatile Organic Comp.
The country of origin for this product is the United States. To see the full specifications for this product, please see our product manual found under the documentation tab if available.
Measurement Range
Temperature: -20° to 70°C (-4° to 158°F)
RH: 5% to 95% RH
Light intensity: 1 to 3000 footcandles (lumens/ft2) typical; maximum value varies from 1500 to 4500 footcandles (lumens/ft2)
Analog channels: 0 to 2.5 Vdc (w/CABLE-2.5-STEREO); 0 to 5 Vdc (w/CABLE-ADAP5); 0 to 10 Vdc (w/ CABLE-ADAP10); 4-20 mA (w/CABLE-4-20MA)
Accuracy
Temperature: ± 0.35°C from 0° to 50°C (± 0.63°F from 32° to 122°F), see Plot A in manual
RH: ± 2.5% from 10% to 90% RH typical, to a maximum of ±3.5% including hysteresis at 25°C (77°F); below 10% and above 90% ±5% typical, see Plot B in manual
Light intensity: Designed for indoor measurement of relative light levels, see Plot D in manual for light wavelength response
External input channel (see sensor manual): ± 2 mV ± 2.5% of absolute reading
Resolution
Temperature: 0.03°C at 25°C (0.05°F at 77°F), see Plot A in manual
RH: 0.05% RH
Sample rate: 1 second to 18 hours, user selectable
Drift
Temperature: 0.1°C/year (0.2°F/year)
RH: <1% per year typical; RH hysteresis 1%
Response Time in Airflow of 1 m/s (2.2 mph)
Temperature: 6 minutes, typical to 90%
RH: 1 minute, typical to 90%
Time accuracy: ± 1 minute per month at 25°C (77°F), see Plot C in manual
Operating Temperature
Logging: -20° to 70°C (-4° to 158°F); 0 to 95% RH (non-condensing)
Launch/readout: 0° to 50°C (32° to 122°F), per USB specification
Battery life: 1 year typical use
Memory: 64K bytes (43,000 12-bit measurements)
Weight: 46 g (1.6 oz)
Dimensions: 58 x 74 x 22 mm (2.3 x 2.9 x 0.9 inches)
The CE Marking identifies this product as complying with all relevant directives in the European Union (EU).