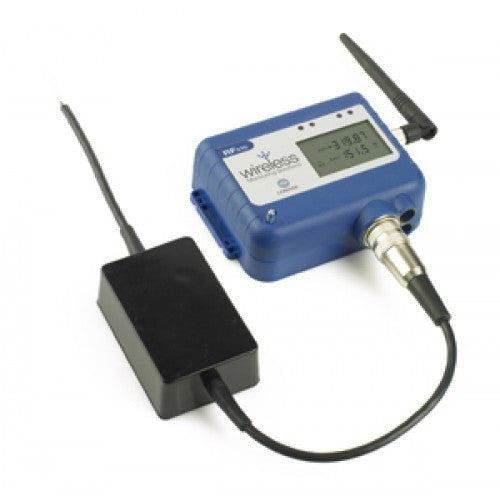 RF515 Multi-parameter Wireless Transmitter
Contact Us for Pricing:
Use RF515 in wide ranging applications to automate monitoring of parameters such as pressure, gas, flow, level, dissolved oxygen, CO2 and many more.
With inputs of current and voltage, the Comark RF515 transmitter can be easily connected to a control loop and programmed to measure an extensive range of parameters.
As part of an RF500 Wireless Monitoring System, the transmitter caters for applications from manufacturing, food and beverage production, power generation, chemical and gas industries.
LCD screen for local display at point of measurement
LEDs allow checks of active/alarm indication in situ
Selectable scales
BioCote® protected surfaces inhibit growth of bacteria, mould and fungi providing an extra line of defence in high-risk environments
High gain antenna available - see accessories
System Accuracy with RF515A at 23°C 0.3% of reading
--------------------------------------------------------------------------------
Resolution
0-10V 1mV
0-1V 0.1mV
4-20mA 1µA
--------------------------------------------------------------------------------
Storage Temperature -40°C to +85°C
RF Frequency 2.4GHz using IEEE 802.15.4
Standard Antenna External, removable, Omni directional with pivot. Length: 90mm from pivot
High-Gain Antenna (Optional) Length: 235mm from pivot
Radio Range *Typically 50 metres indoors
Clock Accuracy 20ppm (1 minute/month) at 25°C
Logging Memory 32000 records
Logging Frequency Programmable between 1 minute and 60 minutes
Monitoring Frequency 1 Minute
LEDs Red - Warning / Green - Active
Case Material Over Moulded food safe clear Polycarbonate with BioCote® antimicrobial
Environmental Protection Case enclosure designed to meet IP67 BS EN 60529
Battery Type Replaceable Lithium 'C' Cell Saft LSH14 Light
Battery Life Up to 3 years
Dimensions L 84mm x W 107mm x D34mm
Weight 270g
Warranty Two Years
--------------------------------------------------------------------------------
*Internal RF range cannot be guaranteed as it varies from building to building