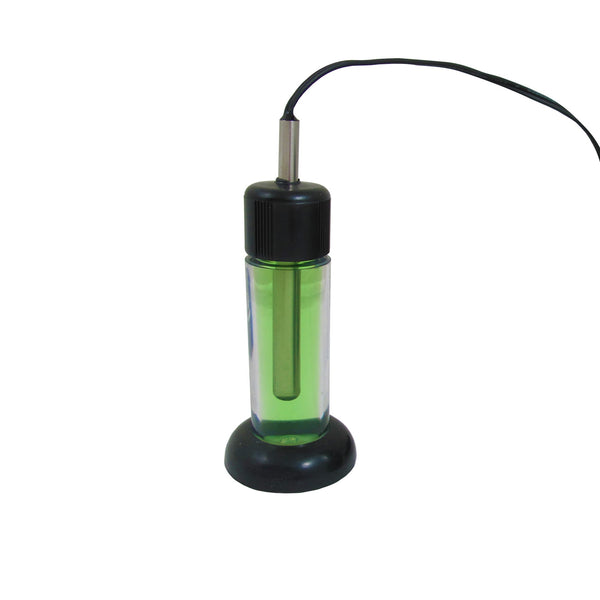 RFAXGlycol Glycol Buffer Probe
HH Solutions Irelands leading stockist of Compliance Instruments supply the RFAXGlycol Diligence WiFi Glycol Buffer Probe for RF312 Glycol and RF312 Dual Plus.
The RFAXGLYCOL Glycol Buffer Probe is designed for use in monitoring the temperature of vaccines and is designed to act as a replacement part for the Buffer Probe that is supplied as part of the RF312Vaccine Diligence WiFi Glycol Simulant Data Logger.

Temperature Measurement Range: -40°C to +100°C / -40°F to +212°F
Glycol Buffer Response Time (t90*): 40 Minutes
Glycol Buffer probe Lead length: 3 Metres
Warranty: 6 Months
The RFAXGLYCOL Buffer Probe provides a buffered response to changes in temperature. This helps to simulate the thermal lag experienced by products stored in the monitored environment.

The Probe is supplied with a detachable magnetic base for easy installation.

High accuracy Glycol Buffer Probe temperature measurement range -40°C to +100°C / -40°F to +212°F.

Glycol buffer probe lead length is 3 metres and has a buffer response time (t90*) of 40 minutes.

*The t90 response is the time taken for the temperature probe to achieve 90% of the ambient temperature, after being subjected to an instant change. This response time is designed to reproduce the thermal characteristics of a vaccine vial, accurately tracking the temperature of the vaccine.
Technical Specifications
| Name | Value |
| --- | --- |
| Sensor Type | Thermistor |
| Temperature Measurement Range | -40°C to +100°C / -40°F to +212°F |
| Glycol Buffer Response Time (t90*) | 40 minutes |
| Glycol Buffer Probe Lead Length | 3 metres |
| *The t90 response is the time taken for the temperature probe to achieve 90% of the ambient temperature, after being subjected to an instant change. This response time is designed to reproduce the thermal characteristics of a vaccine vial, accurately tracking the temperature of the vaccine. | |
| Warranty | 6 Months |